Cuisine for all tastes
Restaurant
The dining room at the Lobster Hotel is spacious and always sunny with a great selling point, the view of the sea of Rimini. Every day, the view from the dining room of Albergo Aragosta puts adults and children in a good mood. Having breakfast with a view of the sea, lunch or dinner, make the moments of sharing a meal even more evocative and cheerful.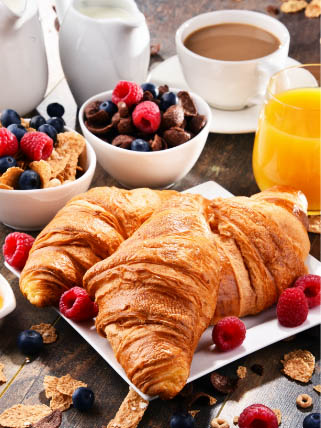 Sweet and savoury delights
Breakfast
The Hotel's breakfast starts every day at 7.30 a.m. and always ends at 10 a.m. There are many products that you can taste and that you will be able to enjoy. served directly at the tablebrioche, homemade cakes and tarts, white and fruit yoghurt, cereal muesli, fresh milk, soya milk and more. Guests who prefer an international breakfast can also find cold cuts and cheesesgluten-free products, as well as fruit and juices for a hearty and nutritious breakfast.
We cook for all tastes
The flavours of Romagna on the table
The kitchen of the Hotel Aragosta offers daily dishes to meet the needs of all types of customers. Lunch is served every day from 12.45 to 13.45, while dinner is served from 19.45 to 20.45. Both meals offer choice of menu between two or three entrees and two or three seconds, fish, meat and with dietary proposals for those who don't want to give up their figure even on holiday.
In addition you will receive served at the table our mouth-watering Mediterranean and Romagna-style starters, both cold and hot. Among the alternative cuisines also vegetarian menusfor intolerances and for sportsmen by appointment only.
On Sundays, lunchtime is postponed to 1 p.m.: before sitting down, you can enjoy our aperitif, weekly appointment every Sundaywith lots of snacks and specialities from Romagna.
Choose the promotion that suits you
Incredible offers
Request a quote
FREE
---
1)
Beach included
A sunbed and umbrella
2)
Free parking space
Subject to availability
3)
Free swimming pool
Our hotel swimming pool
4)
At the table 3 menus
Always choose the best